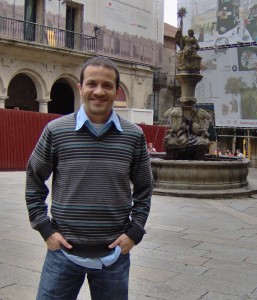 Jans Alzate-Morales performed his undergraduate studies, in Pharmaceutical Chemistry, at the University of Antioquia, Colombia (1995-2001).  Afterwards, his doctoral studies in chemistry were conducted at the University of Chile, Chile (2002-2006), funded by a fellowship from the German Government granted through DAAD (Deutscher Akademischer Austausch Dienst).
The topic of his thesis was focused on the computational study of protein-ligand interactions in the CDK2/Cyclin system, which is directly related to cancer disease. During his PhD, he spent six months doing research in the group "Efectos del Medio", Faculty of Physical Chemistry of the University of Valencia (Spain) and in the Department of Theory of Fritz Haber Institute of the Max Planck Society, Berlin (Germany ).
In 2007, he was inserted in the Center for Bioinformatics and Molecular Simulation (CBSM), to continue his postdoctoral studies with a scholarship for Academy Insertion granted by the Chilean Government through PBCT (Bicentennial Program of Science and Technology) . In 2010 he was hired as a lecturer and in 2012 obtained a permanent position as Assistant Professor attached to CBSM, Faculty of Engineering, University of Talca.
The main area of ​​his research is focused on understanding the subtle phenomena that occur at the molecular level in the interaction protein-drug, protein-substrate recognition and enzymatic catalysis. To do so, he uses several computational tools such as molecular docking, molecular dynamics, quantum chemistry methods and hybrid QM / MM, among others.
Research funding

"Biotransformation Processes Catalyzed by Ligninolytic Enzymes from Phanerochaete chrysosporium: Rational Protein Design from Computational calculations and site-directed mutagenesis studies.", FONDECYT Regular Project, 4 years, 2014, Principal Researcher.
"Understanding the Protein-Ligand Binding Phenomena through hybrid calculation approaches and other Computational Methods", Proyecto FONDECYT Iniciación, 3 years, 2010, Principal Researcher.
"Fishing For Complements: Design Of Compounds That Simultaneously Interact With Monoaminergic Proteins And Nicotinic Receptors, Based On Similarities Between Their Ligand Binding Sites", Proyecto FONDECYT Regular, 4 years, 2013, Associate Researcher.
"Insights Into The Structural Basis Of The Interactions Between Camp-Dependent Protein Kinase (PKA) And Its Substrates: Development Of Predictive Molecular Models And Testing In The Study Of The Interactions Between PKA And Potassium Channel Akt2", Proyecto FONDECYT Regular, 3 years, 2013, Associate Researcher.
"Simulaciones Moleculares de Catalizadores Biológicos. Nuevas Metodologías para el Cálculo de Potenciales de Fuerza Media y Aplicaciones de Interés Biomédico", Ministerio de Economía y Competitividad, Gobierno de España, 4 years, 2013, Associate Researcher.
"Concurso de Apoyo a la Formación de Redes Internacionales entre Centros de Investigación", Proyecto CONICYT, 2 years, 2013, Associate Researcher.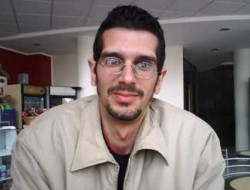 Julio Caballero studied B.Sc. in Chemistry at Universidad de La Habana, Cuba (1996-2001). His PhD stay was at Universidad de Talca, Chile, and was devoted to the study of differential potency of ATP-competitive protein kinase inhibitors using a group of molecular modeling methods. He got a permanent position at Universidad de Talca in 2012. At this moment, he is assistant professor at CBSM, Faculty of Engineering, Universidad de Talca, and he is author of more than 70 papers and one book chapter in research area. His research team consists of one postdoctoral researcher, two PhD students, and two diploma students. His main research focuses on the study of biomolecular systems by using computational chemistry, bioinformatic tools and molecular modeling.
Research lines
Protein-ligand interactions using protocols including docking, molecular dynamics (MD), QSAR, hybrid calculation methods, pharmacophore modeling, de novo design, virtual screening.
Ligand-based molecular modeling (QSAR, pharmacophore modeling, chemoinformatics). Applications to the study of the potency of synthetic bioactive compounds and natural products.
Substrate specificity of protein kinases (molecular dynamics (MD) and FEP calculations).
Proton channels (molecular dynamics (MD)).
Interactions between small organic molecules and membranes.
Research funding
Project FONDECYT Regular # 1130141 (2013-2015) 'Insights into the structural basis of the interactions between cAMP-dependent protein kinase (PKA) and its substrates. Development of predictive molecular models and testing in the study of the interactions between PKA and potassium channel AKT2' (main researcher).
Project FONDECYT Regular # 1130216 (2013-2015) 'Research on Mechanisms of Antiplatelet Action of Adenosine and other Bioactive Compounds from Solanum lycopersicum L' (2013-2015), (coinvestigator).
CONICYT postdoctorade project researcher Edison Humberto Osorio López. 'Catálisis enzimatica en la proteina quinasa PKA' (2012-2015) (sponsor).
CONICYT/DAAD project (2012-2013) 'Characterization of the modulation of TPK channels by signalling molecules' (Adjunt researcher).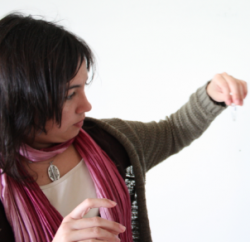 Wendy Gonzalez Diaz, PhD. is currently professor and director of Center for Bioinformatics and Molecular Simulation (CBSM), at Universidad de Talca. Her research team consists of 2 diploma students and one technician (Biochemist).
She has a FONDECYT grant project (2011-2013) for novel researchers and she has a postdoctoral position in University of Potsdam, Germany (2011-2012).
Her research field is Biophysics and Structural Bioinformatics. She is interested in the study of potassium channels.
In the field of education she works as Professor for Bioinformatics Engineering students in the University of Talca.
Recent publications:
Sandmann M, Skłodowski K, Gajdanowicz P, Michard E, Rocha M, Gomez-Porras JL, González W, Corrêa LG, Ramírez-Aguilar SJ, Cuin TA, van Dongen JT, Thibaud JB, Dreyer I. The K (+) battery-regulating Arabidopsis K (+) channel AKT2 is under the control of multiple post-translational steps. Plant Signal Behav. 2011 Apr 1;6(4). [Epub ahead of print] PubMed PMID: 21445013.
Gajdanowicz P, Michard E, Sandmann M, Rocha M, Corrêa LG, Ramírez-Aguilar SJ, Gomez-Porras JL, González W, Thibaud JB, van Dongen JT, Dreyer I. Potassium (K+) gradients serve as a mobile energy source in plant vascular tissues. Proc Natl Acad Sci U S A. 2011 Jan 11;108(2):864-9. Epub 2010 Dec 27. PubMed PMID: 21187374; PubMed Central PMCID: PMC3021027.
Garcia-Mata C, Wang J, Gajdanowicz P, Gonzalez W, Hills A, Donald N, Riedelsberger J, Amtmann A, Dreyer I, Blatt MR. A minimal cysteine motif required to activate the SKOR K+ channel of Arabidopsis by the reactive oxygen species H2O2. J Biol Chem. 2010 Sep 17;285(38):29286-94. Epub 2010 Jul 6. PubMed PMID: 20605786; PubMed Central PMCID: PMC2937961.
Riedelsberger J, Sharma T, Gonzalez W, Gajdanowicz P, Morales-Navarro SE, Garcia-Mata C, Mueller-Roeber B, González-Nilo FD, Blatt MR, Dreyer I. Distributed structures underlie gating differences between the kin channel KAT1 and the Kout channel SKOR. Mol Plant. 2010 Jan;3(1):236-45. Epub 2009 Dec 10. PubMed PMID: 20007672.
Gajdanowicz P, Garcia-Mata C, Gonzalez W, Morales-Navarro SE, Sharma T, González-Nilo FD, Gutowicz J, Mueller-Roeber B, Blatt MR, Dreyer I. Distinct roles of the last transmembrane domain in controlling Arabidopsis K+ channel activity. New Phytol. 2009;182(2):380-91. Epub 2009 Jan 14. PubMed PMID: 19192193.
Carvacho I, Gonzalez W, Torres YP, Brauchi S, Alvarez O, Gonzalez-Nilo FD, Latorre R. Intrinsic electrostatic potential in the BK channel pore: role in determining single channel conductance and block. J Gen Physiol. 2008 Feb;131(2):147-61. PubMed PMID: 18227273; PubMed Central PMCID: PMC2213566.
Niemeyer MI, González-Nilo FD, Zúñiga L, González W, Cid LP, Sepúlveda FV. Neutralization of a single arginine residue gates open a two-pore domain, alkali-activated K+ channel. Proc Natl Acad Sci U S A. 2007 Jan 9;104(2):666-71. Epub 2006 Dec 29. PubMed PMID: 17197424; PubMed Central PMCID: PMC1766441.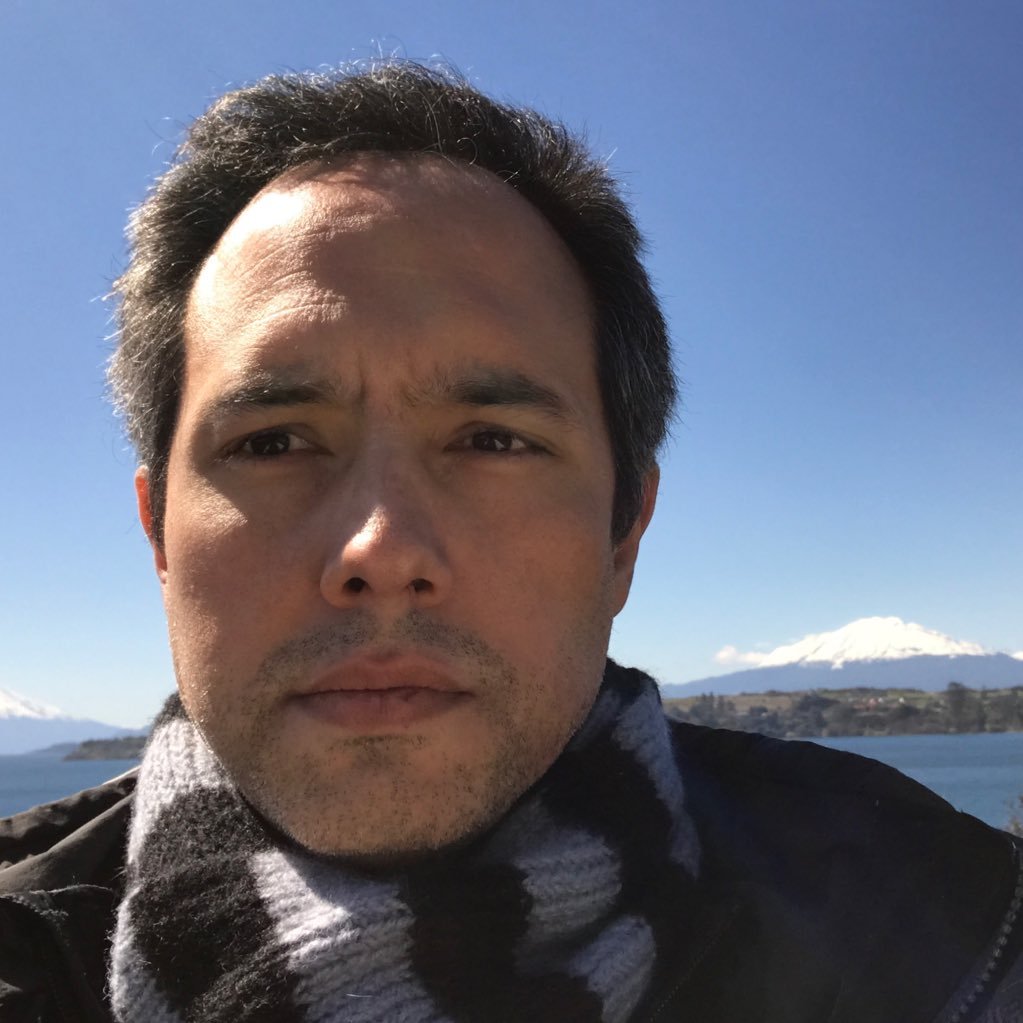 I use Biological Databases (Sequence, Structure and Literature) and High-Throughput Sequencing Technology Data as source of evidence to test hypothesis and create bioinformatic tools for biologists. My primary interest is repetitive (mobile) elements in genomes. In my Ph.D. I generated Hidden Markov Models (HMM) of Prokaryotic Transposase proteins to identify all 25 families in Bacteria and Archaea. Currently, my students and I have developed the correspondent models for eukaryotes. Aiming to better understand mobile elements, we have mapped the predictions derived from the eukaryote Transposase HMMs on the genomes of two related species of frogs, Xenopus laevis and Xenopus tropicalis. Contrary to humans, these amphibians happen to have a significant proportion of their genomes (>30%) enriched with mobile DNA sequences. The question is: What is their role in the regulation of genes and the evolution of genomes?
Position: Assistant Professor at Universidad de Talca.
Academic Degrees: Civil Engineer (Universidad de Chile). Ph.D. (Program of Biotechnology, Universidad Andrés Bello, Chile).
Email: griadi@utalca.cl
Research areas: Mobile Elements and their influence in Gene Regulation and Genome Evolution.
Research Funding
Fondecyt Project #3130441 (Postdoctoral Position at Universidad Católica de Chile with Dr. Francisco Melo and Dr. Juan Larraín)
Recent Publications
Riadi G, Caballero J. Easy Identification of Residues Involved on Structural Differences Between Nonphosphorylated and Phosphorylated CDK2-Cyclin A Complexes Using Two-Dimensional Networks. Mol. Inf 2014 Feb. 33(2):151–162, doi: 10.1002/minf.201300100
Acuña LG, Cárdenas JP, Covarrubias PC, Haristoy JJ, Flores R, Nuñez H, Riadi G, Shmaryahu A, Valdés J, Dopson M, Rawlings DE, Banfield JF, Holmes DS, Quatrini R. Architecture and gene repertoire of the flexible genome of the extreme acidophile Acidithiobacillus caldus. PLoS One. 2013 Nov 8;8(11):e78237. doi: 10.1371/journal.pone.0078237. eCollection 2013. PubMed PMID: 24250794; PubMed Central PMCID: PMC3826726.
Riadi G, Medina-Moenne C, Holmes DS. TnpPred: A Web Service for the Robust Prediction of Prokaryotic Transposases. Comp Funct Genomics. 2012;2012:678761. doi: 10.1155/2012/678761. Epub 2012 Nov 18. PubMed PMID: 23251097; PubMed Central PMCID: PMC3506888.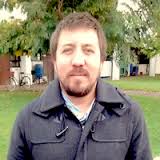 Line of research
Transport proteins are vital to enable and maintain a vast majority of cell processes, which enable plant growth, development and reproduction among others. My research focuses on the investigation of transport systems in biological membranes. The primary interest is the relation of structure and function of ion channels and ion transporters. For the examination of transport proteins, a set of experimental approaches in combination with computational approaches is used. Experimental biology involves molecular biology techniques, yeast expression and complementation systems, and electrophysiological approaches. Computational biology comprises the analysis of homology models and molecular dynamics simulation.
Grants
2017-2020: Convocatoria Nacional Subvención a La Instalación En La Academia, (#PAI77170035), Elucidación del mecanismo de conducción iónica de los canales K+/Na+ HKT de plantas mediante estudios computacionales y experimentales, Principle Investigator
2014-2017: Fondecyt Postdoctorado (#3150173), Investigation of the selectivity and ion conduction mechanism of HKT Na+/K+ transporters, Principle Investigator